Which of the two most popular Z Drugs are best for treating insomnia?

Results from a - carried out over a 14 day period - of Zopiclone vs. Zolpidem, determined that Zolpidem was at least as effective as Zopiclone for the treatment of chronic insomnia, along with other interesting facts like which medication was tolerated better, and which one worked best to prevent insomnia from returning.
Zopiclone
Zopiclone tablets come in two strengths - 3.75 mg and 7.5 mg.

They are nonbenzodiazepine sleeping pills, popular brand names include Imovane or Zimovane, and they are prescribed to treat bouts of chronic insomnia over a short period of two to four weeks maximum.

Zopiclone is proven to help patients fall asleep quickly and also helps to prevent frequent awakenings during the night.
Zolpidem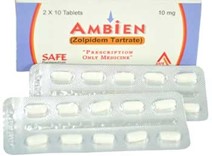 Zolpidem tablets come in two strengths - 5 mg and 10 mg.

They are nonbenzodiazepine sleeping tablets, popular brand names include Ambien or Stilnox, and they are prescribed to treat various forms of insomnia and sleep disorders over a 2 to 4-week period.

This medicine helps patients fall asleep more quickly and makes it less likely patients to wake up during the night.
Is Zopiclone the Same as Zolpidem?
Zopiclone (ZPC) and Zolpidem (ZOL) are both nonbenzodiazepine hypnotic agents, they were both designed specifically to induce sleep quickly, and they both help to reduce chances of waking up during the night.

Both medications do however have a different chemical compound, meaning they both have different mechanisms of action, and therefore they will naturally have different effects on patients.

Read a detailed description of each medication below, along with more results from the comparative study to learn how each sleeping aid differs and which would be best for you.
Zopiclone 7.5 mg Tablets
Zopiclone tablets are sedative hypnotic sleeping agents used for the treatment of insomnia. One 7.5 mg tablet should be taken orally just before bedtime (preferably not on a full stomach) and should generally only be taken for short periods of time not exceeding 4 weeks.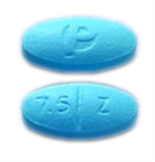 A lower dose is better suited for elderly patients (over the age of 65) and it is recommended that a 3.75 mg tablet is taken once daily for insomnia treatment.

Taking Zopiclone for longer than 4 weeks can lead to an increased risk of patients experiencing unwanted side effects such as dependency, addiction, or withdrawal symptoms. However, when taken in accordance with the patient information leaflet this medication is considered a perfectly safe means of treating insomnia.

Zopiclone should not be consumed by pregnant, or breastfeeding mothers, by minors under the age of 18 years, or in conjunction with alcohol.

The tablets should be swallowed whole with water just before bed; they should not be crushed or chewed. If you wake up in the middle of the night, it is not recommended that you take another dose.

In general, Zopiclone works very quickly with an onset time of around 60 min, it lasts for about 8 hours and it can help patients correct their sleep cycle in a short period of time.
Zolpidem 10 mg Tablets
Zolpidem tablets have been designed as a short term treatment for patients with insomnia. and when taken before bedtime, its sedative effects have been proven to be very effective, but should only be used for no more than two weeks.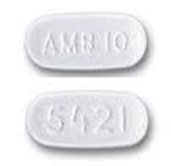 Like most other tablets, Zolpidem needs to be taken orally with water, and for best results, should not be taken directly after eating.

If a patient feels the need to extend past the recommended 2-week course, they should consult a doctor, as continued use of this nonbenzodiazepine can increase the risk of building up a tolerance to the medication or developing a dependency.

Due to its sedative effects, Zolpidem should not be combined with alcohol, and is not to be taken by expectant or breastfeeding mothers.

Although elderly patients over the age of 65 can benefit from this medication, it is usually prescribed as a half dose (1 x 5 mg tablet) to be taken once a day when necessary.

These tablets should not be chewed, crushed, or dissolved, and the dose should not be repeated if the patient wakes during sleep.

Zolpidem is known to be a fast acting sleep aid with an onset time of around 30 min, and usually induces 8 hours of uninterrupted sleep. After a two week course, most patients have been able to re-establish their normal sleeping pattern and no longer require Zolpidem to get to sleep.
Summary of Zopiclone Vs. Zolpidem
To conclude, the comparative study determined that Zolpidem was at least as effective as Zopiclone for the treatment of chronic primary insomnia with a larger percentage of patients reporting a bitter after taste of Zopiclone.

In terms of speed, results point clearly in the favor of Zolpidem with it having a quicker onset time, being better tolerated by patients, and displaying significantly less chance of patients experiencing rebound insomnia.

While these results are pretty conclusive it should be noted that every patient is different and what works best for one person may not necessarily work best for the next.

If you live in the EU, Northern Ireland (N.I.) or the Republic of Ireland (R.O.I.) and you are looking for effective medication for treating insomnia then our 24-hour EU online pharmacy has you covered. We do not require a doctor's prescription and we offer a speedy, discreet nationwide delivery service.

At our 24-hour pharmacy you can buy Zopiclone and Zolpidem online along with a wide range of other FDA approved medications for treating insomnia quickly and effectively.
Content Edited: 25 January 2021
Review Due: January 2022
Post Comment
Your email address will not be published.
Required fields are marked *